Honor Flight #20 Saturday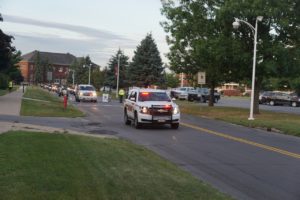 Here are the veterans being honored at the Saturday, September 2, 2017 Honor Flight # 20. Two men have Peru addresses: Michael McKeon and Eugene Provencher. Why not attend the departure ceremony at 7 a.m. at the Old Base Oval. These vets deserve our support. You will never regret attending.
Ronald B. Brault Korean US AIRFORCE S. SGT
Arlen J. Favero Korean US ARMY SGT
Charles E. Finnegan Korean USMC SGT
Alan R. Jones Korean US NAVY SONAR 3rd Class
Charles D. Kennedy Korean US AIRFORCE Captain
Michael T. McKeon Korean US AIR FORCE Master SGT
James R. Morris Korean US AIR FORCE SGT
Dale L. Moss WW11 US NAVY Boiler an 2nd Class
Stephen S. Mydlarz Korean US AIR FORCE Airman 1st. Class
Eugene L. Provencher Korean US NAVY Boatswain ate 3rd Cl
Mark J. Rasco Korean USMC SGT
Richard H. Reome Korean US AIR FORCE Airman 1st Class
Clifton H. St. Louis Korean US AIR FORCE S.M. SGT E-8
James F. Trombley
Standby
Paul Dumas Korean US NAVY
Posted: September 1st, 2017 under Adirondack Region News, Community Events, General News, Northern NY News, Peru resident news/accomplishments, Peru/Regional History, Things to do in & near Peru.