A Bridge Building Professional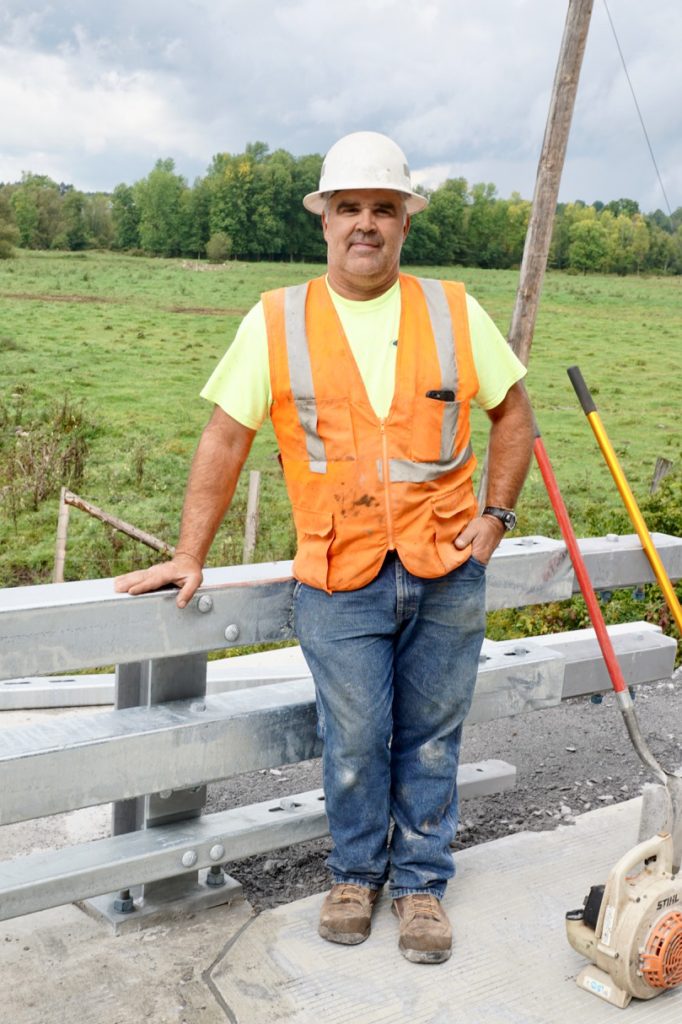 By John T. Ryan
Peru – Peru residents can take comfort in the fact that our new Jarvis Road bridge has been constructed under supervision of a seasoned professional. Chad Fancher, the bridge's construction superintendent, has been building bridges for 30 years, the last 10 years as a superintendent. If Faucher has a question regarding bridge construction, he doesn't have far to go. His brothers Mark, Todd and Eric are either active or retired bridge construction superintendents.
Anyone shaking hands with Fancher instantly knows that he is a man who works with his hands. During high school he worked with his brother as a stone mason and discovered he enjoyed working with stone and brick. He explained "I've been working on bridges since I got out of high school. I just fell into a groove and stuck with it."
Sticking with it has met working in almost every region in Eastern and Central New York. Married and the father of two daughters, Fancher estimates that over his 30 year career he's been away from home about 25% of the time. He said, "Over the past seven years I've been close to home in Johnstown almost all the time." If a job site is less than an hour and a half from home Fancher typically commutes daily. If it's farther away, he stays near the job site. He and his two-man work crew have stayed in Plattsburgh most nights over the past three months.
Traveling brings new experiences. Constructing the Jarvis Road bridge is his first experience in the Champlain Valley. Fancher explained, "I like the change in scenery and the people I meet. Here in Peru, Bob Irwin and his brothers Jim and Melvin have been awesome. I've also enjoyed meeting Jon Rulfs of Adirondack Farms and a couple people in Stewarts. Highway Superintendent Mike Farrell has been great. He stopped by to say he would help us any way he could. Al Rascoe and Dave Langlois from the Clinton County Highway Department have also been great to work with."
Ironically, after working so hard to complete the Jarvis Road bridge ahead of schedule, Fancher won't be here when the bridge officially opens next week. He'll report to a bridge job in Catskill, NY next Monday. He won't see Bob Irwin drive his Corvette across the new bridge. Instead, he'll be meeting new people and enjoying new scenery in another part of the Empire State.
Posted: September 8th, 2017 under Adirondack Region News, Business News, General News, Highway Dept. News, Northern NY News, Peru News, Peru/Regional History, Regional NY-VT. News.