Serving Veterans and Community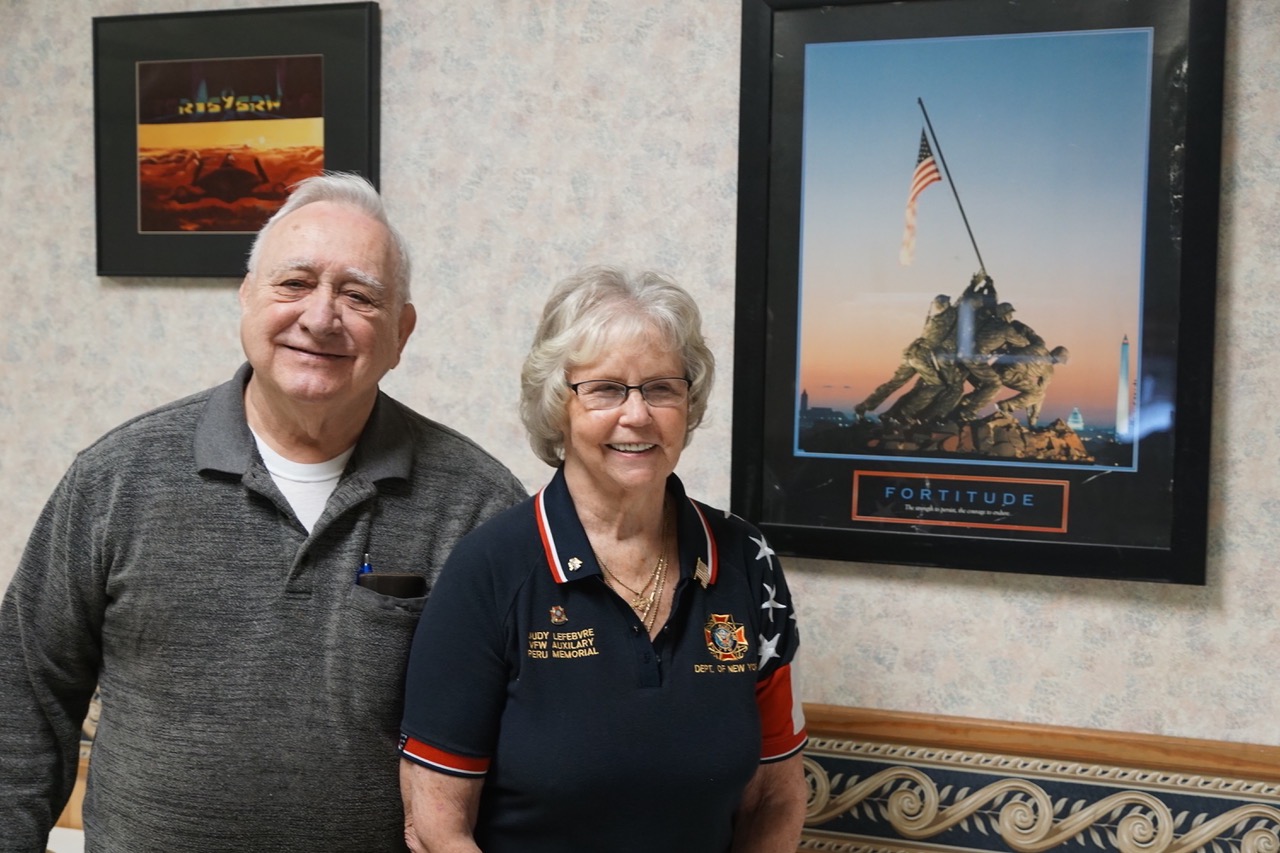 Please Share
By John T. Ryan
Bill & Judy Lefevre are #32 in our Peru Gazette photo series of people who make Peru a wonderful place to live. They are the leaders of Veterans of Foreign Wars Post 309 and its Auxiliary. Bill is the Post Commander. Judy is the Auxiliary President. Bill and Judy work very hard serving the Post's members and the Peru community. If you stop by Post 309, Bill and Judy are usually there to welcome you.
A few people think of the VFW Post as a place for the vets to go to have a drink. As Judy said, "We're not just another bar. It helps keep our doors open. It's not our mission."
The VFW states its core values as follows:
• Always put the interests of our members first
• Treat donors as partners in our cause
• Promote patriotism
• Honor military service
• Ensure the care of veterans and their families
• Serve our communities
• Promote a positive image of the VFW
• Respect the diversity of veteran opinions.
Post 309 implements these values in several ways. Its well-attended Veterans Day and Memorial Day Services honor veterans and remind everyone, especially our youth, of the sacrifices made by our nation's veterans. Anyone who attends either service can't help but be impressed by the respect shown to military tradition and by the hospitality offered to everyone present.
The Post's Voice of Democracy audio-essay program offers local high school students the opportunity to win cash awards or college scholarships at the local, state and national level. The Auxiliary's youth program awards certificates to kindergarten students who have learned the Pledge of Allegiance to the Flag. Flag themed coloring books are also made available to local schools.
Peru residents facing a medical crisis have benefited from the fundraisers hosted by Post 309 while others look to the VFW as a great place to hold family functions. Its breakfasts and weekly entertainment programs are enjoyed by many members of the local community.
Veterans from all branches of the Armed Services belong to Post 309. They appreciate the camaraderie they find at at Post 309 as well as the organization's insurance programs, financial grants, veterans advocacy in Albany and Washington and its expertise in dealing with the Veterans Administration.
Fortunately in 2015 the VFW Ladies Auxiliary expanded its membership eligibility requirements. It is no longer a Ladies Auxiliary but simply an Auxiliary. Members must be citizens of the United States or a United States National, and at least 16 years old.
Those eligible are:
• Husband/Wife
• Widower/Widow
• Father/Mother
• Grandfathers/Grandmothers
• Sons/Daughters
• Grandsons/Granddaughters
• Brothers/Sisters
Of persons who were or are eligible for membership in the Veterans of Foreign Wars of the United States.
Those eligible for membership in the VFW are those that have received a campaign medal for overseas service; have served 30 consecutive or 60 non-consecutive days in Korea; or have ever received hostile fire or imminent danger pay. Click here for more information.
If you have questions or an interest in joining the VFW or the VFW Auxiliary please call Bill Lefevre at 518-563-7558 or Judy Lefevre at 518-593-5628.
Posted: February 11th, 2018 under Faces of Peru, General News, Northern NY News, Peru News, Peru resident news/accomplishments, Peru/Regional History, Veterans' News.

Comments
Write a comment