By John T. Ryan
Peru – Veterans Day has a special meaning for Janet Downs. Her father Private First Class Ernest LaPine was in a hospital in France recovering from combat wounds on the first Veterans Day, November 11, 1918. On Veterans Day 1984, 66 years after being severely wounded, Private Lapine was awarded a Purple Heart.
Janet Downs related her father's story at this year's Peru VFW Post 309 Veterans Day Service. A Westport, NY native and longtime Keene Valley resident, Ernest LaPine enlisted in the U.S. Infantry on April 25, 1918 at age 22. On May 19, 1918, less than 30 days after entering service, he departed for England. On June 2nd, he was assigned to duty in France transporting goods by horse and wagon from the coast to the French interior. Just over 90 days later, on September 17th he was severely wounded and hospitalized with shrapnel in his left shoulder. His family wasn't aware of his injuries until October 8th when they received a telegram from Washington, D.C. On March 10, 1919 Private LaPine was discharged from military duty. He brought home a reminder of his service to our country – the piece of the shrapnel that had been lodged in his shoulder. He carried that shrapnel in a change purse in his pocket for the rest of his life.
World War I veterans didn't talk much about their war experience. Even though Lapine had suffered severe wounds, he didn't complain about not having received a Purple Heart. However, as Janet Downs related, her parents were loyal fans for the television series Mash where Purple Hearts were awarded almost weekly. Janet's mother Madeline started saying, "If they can get one, Ernest certainly deserves one." She soon discovered that getting one would take persistence.
On April 18, 1983 an application for the award was submitted at the Veterans Administration office in Elizabethtown. The discharge records documenting Ernest LaPine's wounds and the telegram informing his family of his wounds accompanied the application. Ernest even submitted a photo of the shrapnel.
Janet Downs said, "That's when the fiasco began." One government office quickly responded, "We're all out of Purple Hearts." Then a government official stated that Private LaPine's records may have been housed in a St Louis, Missouri warehouse that had been destroyed by fire. Finally, after a year had passed, someone in Washington advised the family to contact their Congressman.
In July, 1984 the documents Ernest LaPine had preserved were sent to Congressman David O'B. Martin's office in Washington D.C. The Congressman soon assured the family that the award would be received within the next six weeks. Finally, on Veterans Day 1984, Jim Lloyd of the Elizabethtown Veterans Administration office presented the Purple Heart to Private First Class Ernest LaPine at CVPH Medical Center where he was a patient. He passed away a little over 30 days later on Christmas Day 1984 at age 88, the proud recipient of the Purple Heart. The family also learned that the telegram informing them of his wounds was the document that made the award possible.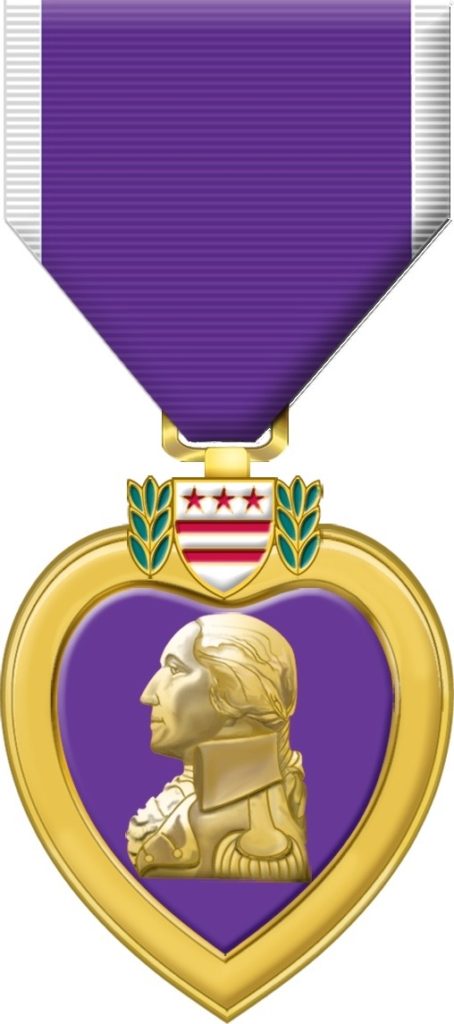 Posted: November 18th, 2017 under General News.
Comments: none