Town Court is in Session at the Peru Court House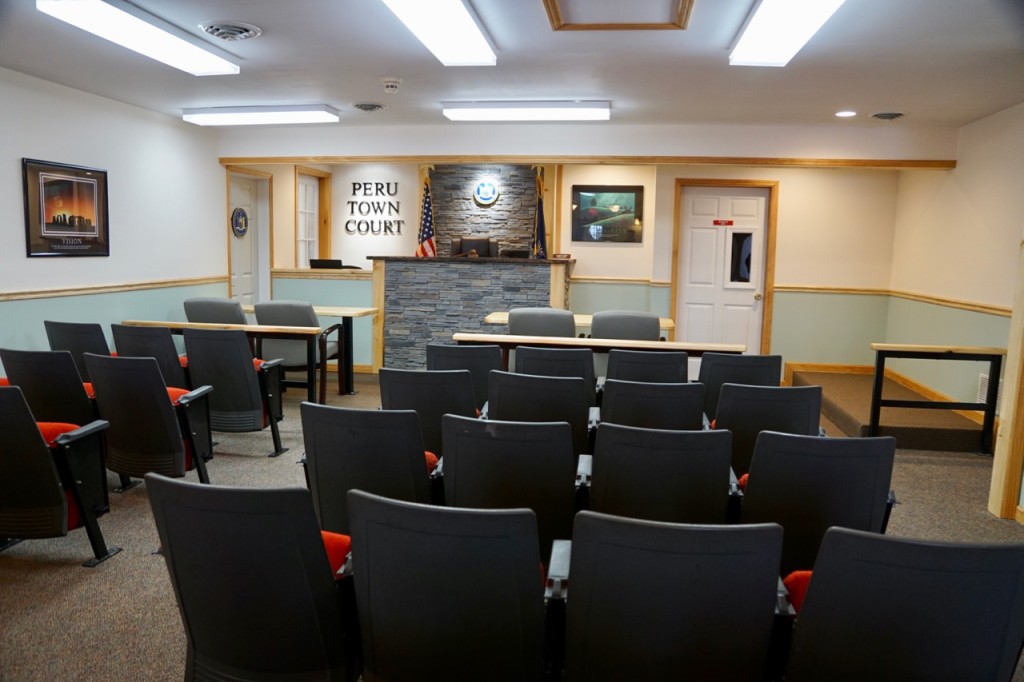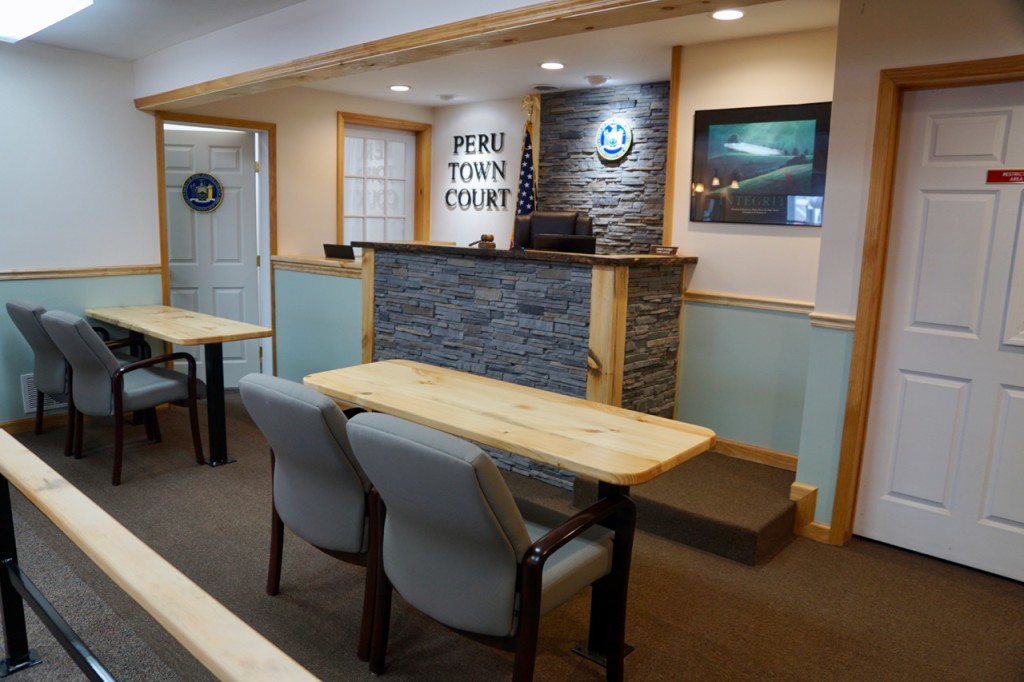 By John T. Ryan
Editor's Note – Phone & Fax Numbers Corrected 
Tuesday, Dec. 6, 2016 – Today is an important day in Peru's history. At 2 p.m. the first scheduled Peru Town Court session convened at 22 Davey Drive in the building formerly owned by the Peru Federal Credit Union. The court actually began conducting business at the new location on December 1st, but today is the first scheduled court session. Prior to December 1st, Town Court was conducted at the Peru Town Hall.
It is also undoubtedly a memorable day for Town Justice Jim Kirby. His persistent requests (supported by Judge Larry Cabana) persuaded the Town Board to move court proceedings out of the Town Hall. On July 20th the Board voted to purchase the credit union building at a cost of $115,000 plus 2016 taxes due. For the past three months Judge Kirby and his brother Ben (general contractors by trade) have donated their time and talent to convert the building into a structure suitable for town court. Click here to see all our Peru Gazette photos) 
Convert it they did and at less than $10,000 for materials – a cost which is expected to be paid by NYS grants. Where a series of office once stood, there is now an expansive courtroom that can seat 35 in addition to the prosecution, a defense attorney and defendant, the judge, court clerk and a seven-person jury. Judges Kirby and Cabana sit at an elevated judge's bench surrounded by impressive stone masonry. The solid-looking prosecution and defense tables were hand-made by Jim and Ben Kirby. LED lighting illuminates the front of the room and lights inherited from the credit union illuminate the rear. Judge Kirby purchased the 35 used theater seats at a downstate auction and had them commercially cleaned after they arrived in Peru.
Court offices are adjacent to the court room. Court Clerk Holly Stone and Assistant Court Clerk Christine Crawford transact business through a window facing the court room and through the drive-in window that was once used by the credit union.
A dual use conference/break-room, a large office space, a bathroom, storage room and a holding cell are also adjacent to the court room. Prisoners enter the holding cell through a rear entrance and sit on a bench outfitted with shackles. Judge Kirby said the bench can accommodate four prisoners.
In June 2016, the Peru Gazette reported, "Peru Town Court has the third highest caseload in Clinton County. Since January 1st Justices Kirby and Cabana have conducted over 100 off-hour arraignments. Over the first five months of this year they presided over 136 criminal cases (358 in 2015), 20 civil cases and processed 1,058 traffic violations. Many, if not most, of the criminal cases require multiple conferences or proceedings. In 2015 the Town Court revenue totaled $143,809 while operating expenses totaled $103,773."
To reach the Peru Town Court call 518-643-4187. Fax 518-643-4188. Davey Drive is located off the Bear Swamp Rd. between McDonald's and Langley Insurance.
Posted: December 6th, 2016 under Adirondack Region News, Community Events, General News, Law Enforcement News, Northern NY News, Peru News, Peru/Regional History, Town Board News.